Academy of Distinguished Civil & Environmental Engineer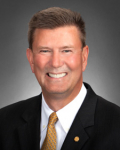 Joe Zimmerman, P.E.
Vice President, Klotz & Associates
Joe R. Zimmerman is the Vice President of the Public Works Practice Area at Klotz Associates.  He has over thirty-four years of experience working in municipalities as a consulting engineer, land developer and homebuilder.  In May of 2012 he was elected to the Sugar Land City Council where he is serving a two-year term.  Prior to being elected to city council, Mr. Zimmerman was a member of the City of Sugar Land Planning & Zoning Commission and a board member of both the Fort Bend County Toll Road Authority and Houston Baptist University Beechnut Street, Inc.
He and his wife, Nancy, have lived in Sugar Land since 1990.  Nancy is an interior designer who owns her own business, Nancy Zimmerman Interiors.  Their daughter, Allison, is the Associate Recruiting and Client Relations Manager with Weil and is married to Chris Wallace, who is currently pursuing an MBA at Rice University.
Joe earned his civil engineering degree from the University of Houston and an MBA from Houston Baptist University.   He enjoys hiking in Big Bend, golf, bird hunting and spending time with the family at Lake McQueeney.  He and Nancy are active members of Second Baptist Church.