Academy of Distinguished Civil & Environmental Engineer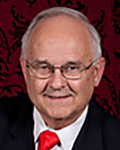 Bill Callegari
Representative, Texas House of Representatives
Bill Callegari has been a licensed Professional Engineer for over 40 years. He holds a bachelor's degree in Agricultural Engineering from Louisiana State University and a Master's Degree in Civil Engineering from UH.
Community involvement has been an important part of Bill Callegari's life and career. Before his election to the Texas State Legislature in 2000, he was involved in numerous activities in both the Katy and Houston areas, including local chambers of commerce and various professional and civic organizations.
Representative Callegari has served District 132 since his election in 2000, and looks forward to continuing to serve the residents of his district and the State of Texas. He currently serves as Vice Chairman of the House Committee on Natural Resources, and on the Transportation and House Administration Committees. In addition to these assignments, he also serves as Vice Chairman of the House Research Organization.
In his five terms in office, Bill has established himself as a no-nonsense, conservative leader. As one of only two licensed engineers in the House of Representatives, he has brought unique professionalism and expertise to the Legislative process.
Bill and his wife, Ann, have been happily married for over 47 years and reside in Katy, Texas. They have 4 children and 10 grandchildren.