Academy of Distinguished Civil & Environmental Engineer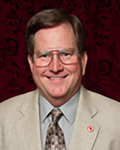 John Odis Cobb, P.E. (Retired), R.P.L.S. (Retired)
Retired; Founder, Cobb, Fendley & Associates Inc.
John Odis Cobb, P.E., R.P.L.S., is a native Houstonian who attended John H. Reagan High School and graduated from the University of Houston in 1971 with a Bachelor of Science in Civil Engineering and in 1979 with a Master of Science in Civil Engineering.  While earning his undergraduate degree, he participated in the Co-Operative Education Program at the Texas Department of Transportation.
After completing his undergraduate degree, Mr. Cobb accepted employment at a Houston based civil engineering firm where he became registered in the State of Texas as a professional engineer and as a professional land surveyor.
In April 1980, he and fellow UH graduate, William F. Fendley, established Cobb, Fendley & Associates, Inc., a civil engineering and land surveying company in Houston, Texas.  Cobb, Fendley & Associates was selected in 1994 and 1998 as a member of the "Houston 100" which is a group of the fastest growing private companies making the greatest impact on the City of Houston.  The firm consists of more than 170 business associates and in 2011 was ranked by the Houston Business Journal as 19th among Houston-area civil and structural engineering firms according to local gross billings.
Mr. Cobb is active in a number of professional engineering organizations.  He served as president of the Houston Engineering & Scientific Society during 2001-2002 and served as a director on the board for the Houston Council of Engineering Companies.  He has volunteered with the TSPE MATHCOUNTS program and has judged the Houston area Science Fair program.  He is currently a director on the board for the Coastal Water Authority.
He has been involved at the University of Houston as a committee member for the Cullen College of Engineering annual golf tournament, a member of the advisory board for the Department of Civil and Environmental Engineering, chairman for the Telecommunications Engineering Advisory Board and a member of the Engineering Dean's Leadership Board.  In 1999, he was honored with the UH Engineering Alumni Association's Distinguished Engineering Alumnus Award.
During the past 10 years Mr. Cobb and Mr. Fendley have set aside funds each year to establish various endowments at the University of Houston including the Cobb/Fendley Scholarship Endowment Fund, the Cobb/Fendley Scholarship Endowment in Electrical and Computer Engineering, the Cobb/Fendley Excellence Fund Endowment, the Engineering Building Endowment Fund and were instrumental in the establishment of the Charles J. Tamborello Memorial Scholarship Endowment in honor of their close friend Mr. C.J. Tamborello, P.E.