Academy of Distinguished Civil & Environmental Engineer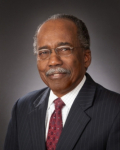 David Collins, P.E.
Senior Civil Engineer, FCM Engineers
David L. Collins, P.E., RPLS, F.ASCE (BSCE '71) is a semi-retired consultant to FCM Engineers, PC, a consulting civil engineering, planning and construction management firm in Houston. He was selected as a Fellow in the American Society of Civil Engineers in 2013. He was also a Principal of PTI, Inc. from 1982 to 2010. During the course of his 40 year career, David designed and managed civil engineering projects domestically and around the world, such as at the University of Riyadh, Internal Security Forces College, Jeddah Maritime Academy in Saudi Arabia, and the University of Maiduguri in Nigeria. He served as an Owner's Representative for the construction of the Toyota Center, Greater Houston Wastewater Program, City of Houston, Lake Houston Dam Restoration and numerous other civil engineering projects.
David has served as a board member of the Texas Department of Health for nine years, the City of Houston Planning Commission for 13 years, the Fort Bend Independent School District for 10 years and the Houston Area Urban League for eight years. During this time, he has also been a member of ASCE and served as an officer and committee member of Houston Branch, Texas Section and National ASCE.
David has received numerous awards during his career, such as the 1991 Texas Section-ASCE John A. Focht, Jr. Citizen Engineer Award, the 1991 Citizen Engineer Award for Outstanding Volunteer Activities in Zone III, the 1995 Texas Section ASCE Professional Service Award, the 1997 Award of Honor from the Houston Branch of ASCE, the National Ad in the American Society of Civil Engineers Magazine for Contribution to Education as Board Member of Fort Bend ISD, and the City of Houston 1996 Outstanding MWBE in Professional Service Award.
David is married to Mary A. Sampay-Collins and the proud parents of David, Jr. and Stacy Collins.