Academy of Distinguished Civil & Environmental Engineer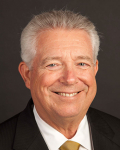 C. Rick Coneway, P.E.
Executive Vice President of Development and Operations, Doucet & Associates, Inc.
C. Rick Coneway, P.E. is the executive vice president of development and operations at Doucet & Associates, Inc., a civil engineering design, consulting, land planning and surveying firm. Coneway is responsible for expanding the firm's client base and enhancing operational efficiencies. He is board-certified in both environmental engineering and water resources engineering by the American Academy of Environmental Engineers and the American Academy of Water Resources Engineers, respectively. He was honored by being named as a Fellow member of both the American Society of Civil Engineers and the Society of American Military Engineers, and recently received a Lifetime Membership from the Water Environment Federation. In 2012, he received the Distinguished Engineering Alumnus Award from the UH Engineering Alumni Association. In 2010, he received the ASCE Austin Branch Civil Engineer of the Year Award. He was named TSPE's Outstanding Young Engineer of the Year in 1978 and in 2000 he was named TSPE's Engineer of the Year. Coneway retired from the US Air Force Reserve at the rank of Colonel with 31 years of decorated service. After 20 years in aviation, he completed his service as a Civil Engineer Officer. As a community leader he has served in a variety of volunteer organizations including Leadership Austin, Greater Austin Chamber of Commerce, Lake Travis Advisory Panel, Wild Basin Wilderness Preserve, Lost Creek MUD and Travis County ESD No. 3.