Academy of Distinguished Civil & Environmental Engineer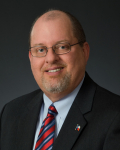 Delvin L. Dennis, P.E.
Vice President at OTHON, INC
Delvin Dennis joined OTHON, INC as Vice President in late 2018. Prior to that  he was Vice President and Director of Texas Department of Transportation (TxDOT) Services for Klotz Associates. He served as the TxDOT Houston District Engineer where he was responsible for managing all district operations and a budget in excess of $1 billion annually.  He oversaw department operations in the counties of Brazoria, Fort Bend, Galveston, Harris, Montgomery and Waller.  The Houston District is the largest district in Texas in terms of registered vehicles, population, and vehicle miles traveled. It includes 24-hour automobile ferry service between Galveston Island and Port Bolivar, the largest roadway maintenance budget in the state, an innovative landscaping enhancement program -- the Green Ribbon Project -- and one of the largest freeway traffic management systems in the US -- Houston TranStar.
Delvin is a graduate of the University of Houston; he earned his Bachelor of Science degree in civil engineering in 1980 and became a registered Professional Engineer in the State of Texas in 1985. He has spent his entire professional career as a Civil Engineer in the Houston region.  His career with TxDOT began in 1980.  He had held various positions with TxDOT during his career which included: Central Houston Area Engineer, Director of Maintenance, and Deputy District Engineer.  TxDOT Executive Director, Amadeo Saenz, Jr. appointed Delvin as the Houston District Engineer effective December 1, 2008.  He retired as a 31-year TxDOT veteran on August 31, 2011. In January, 2012, Delvin began work with Klotz Associates, Inc., a multi-faceted and nationally recognized design firm.
Delvin is a native Houstonian. He is married to Rita and has two children (son, Jeremy, and daughter, Claire). He is currently serving on the Board of Directors and will serve his third term as State President for the Texas Public Employees Association.  He is a member of the American Society of Civil Engineers.  The University of Houston honored Delvin with the Distinguished Engineering Alumni Award for 2010.   Delvin enjoys an occasional round of golf and is active in church activities.