Academy of Distinguished Civil & Environmental Engineer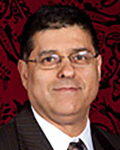 David A. Eastwood, P.E., C.A.P.M
President, Geotech Engineering and Testing
Mr. Eastwood is the President of Geotech Engineering and Testing (GET).  He received his Bachelor of Science in Civil Engineering from the University of Houston in 1977, his Master of Science in Civil Engineering in 1978. He has practiced consulting engineering for about 37 years, serving in key technical project management and administrative roles.  His experience in these functions includes a wide range of project types, ranging from public infrastructure, public works, municipal work, industrial facilities, and commercial developments to waste disposal facilities, power plants, dams, marine terminals and underground storage tank contamination studies.  Mr. Eastwood has the ability to provide clients with cost effective alternatives to difficult problems.  One of Mr. Eastwood's greatest attributes is his ability to contribute constructively, responsively, and professionally as a member of the client's project design team.
Mr. David Eastwood has been inducted to the Academy of Distinguished Civil and Environmental Engineers at the University of Houston Cullen College of Engineering. Geotech Engineering and Testing is a member of PTI, HCEC, ABC, GHBA, AIA, ASTM, TSPE, TIBD, HCEC, TCEL, and ASCE. Mr. Eastwood is on the Geotechnical Committee of Post-Tensioning Institute Slab-On-Grade Committee. Furthermore, he is the past President of the Foundation Performance Association. The mission of this organization is to serve the public by advancing the skill and the art of engineering analysis, investigation on light foundations.
Mr. David Eastwood is also the past president of Houston Chapter of Texas Council for Engineering Laboratories. He helped with development of the geotechnical guidelines for design and construction for City of Houston, Harris County, Harris County Flood Control District, etc. facilities.
Mr. David Eastwood has been married to his wife Adrianna for 12 years and has two children—a son, Alexander and daughter, Katelyn.