Academy of Distinguished Civil & Environmental Engineer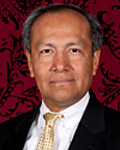 Rafael Ortega, P.E.
President, Aurora Technical Services, LLC.
Rafael Ortega joined LAN in 1981 and has experience in a wide variety of civil engineering fields. As a Vice President and Director of LAN's Large Diameter Business Group, he serves as the lead technical project manager for the City of Houston's multi-million Surface Water Transmission Program (SWTP) capital improvements project. Ortega has led all efforts for the shutdown planning, inspection and rehabilitation of several large diameter prestressed concrete, cast iron, ductile iron and steel water lines as well as emergency repairs and valve replacements.
Ortega has provided planning, engineering and construction management and as well as been personally responsible for the design oversight of more than 500 miles of large diameter water transmission mains including nearly 100 miles of tunnels. Ortega's experience includes several major water line projects (ranging from 20- to 108 inches in diameter), soft ground tunnel design (ranging in size up to 120-inches in diameter), pump station and metering station design, and force main analysis and design. He has also performed rehabilitation design including line replacement and sliplining for several municipalities. This work has included route evaluation, traffic analysis, assignment and coordination of support services (geotechnical and surveying), detail design, and constructability reviews. He has also performed sanitary sewer rehabilitation design including line replacement, grouting, and sliplining, construction management, construction inspection, field engineering, and wastewater facility design. Ortega is responsible for coordinating the constructability and biddability review efforts for all of LAN's major pipeline projects.
Ortega's pipeline expertise is known nationally through his active involvement on Concrete Pipe and Steel Pipe American Water Works Association's standards committees. He travels nationally to speak about condition assessment and rehabilitation of pipelines, as well as many other topics. In January 2008, he was named the "Most Valuable Professional in the Private Sector" by the Gulf Coast Trenchless Association (GCTA). He was Chairman of the American Society of Civil Engineers' (ASCE) Pipelines 2005 Conference in Houston and will serve again at the 2012 conference in Miami. Ortega has truly "seen it all" as it pertains to water transmission facilities and, as such, affords our clients a unique ability to proactively trouble shoot potential design and construction issues before they occur.
Mr. Ortega has 3 children, Andy, Sara and Austin, of whom he is very proud.