Academy of Distinguished Civil & Environmental Engineer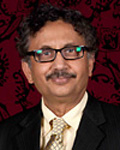 Dr. Arup K. SenGupta
Professor, Lehigh University
Dr. Arup K. SenGupta is the P.C. Rossin Professor in the department of Civil and Environmental Engineering (CEE) at Lehigh University in Pennsylvania. He received his Bachelor of Science degree in Chemical Engineering in 1973 from Jadavpur University in India and his Master of Science and Doctor of Philosophy n Environmental Engineering from the University of Houston in 1982 and 1984, respectively. Professor Dennis Clifford was Dr. SenGupta's Ph.D. dissertation chair.
Dr. SenGupta has been a faculty member at Lehigh since 1985, and served as Department Chair from 1998 to 2005. He is recognized for his seminal contribution in advancing and applying the field of Separation Science in mitigating environmental problems in both developed and developing world. He currently has six US patents for his inventions. Dr. SenGupta's research received awards from the American Society of Civil Engineers (ASCE), American Chemical Society (ACS), American Institute of Chemical Engineers (AIChE), UNESCO and the National Academy of Engineering (NAE) among others.
Dr. SenGupta has been married to his wife, Susmita, for 28 years, and they have 2 sons. The eldest, Neal, graduated from Duke University and is working at a financial company in New York; the younger, Soham, is a freshman at Carnegie Melon University.