Academy of Distinguished Civil & Environmental Engineer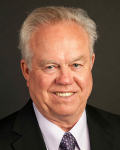 Kenneth E. Tand, P.E.
Founder, President and Principal Engineer of Kenneth E. Tand & Associates, Inc.
Kenneth E. Tand, P.E. is the founder, president and principal engineer of Kenneth E. Tand & Associates, Inc. Since 1981 he has been responsible for the technical and financial management of the company. Projects include geotechnical engineering studies for multi-story office buildings, office/warehouse complexes, and petrochemical units. From 1975 to 1981 he served as the manager of the Houston Geotechnical Engineering Department at Southwestern Laboratories, Inc. In 1973, Tand joined Harding Lawson and Associates as a project engineer, responsible for technical aspects of geotechnical engineering studies and engineering inspection. From 1965 to 1973, Tand worked for Houston Lighting & Power Company as an engineering technician performing design calculations for general civil projects, preparation of specifications and field inspection, and later as a construction project engineer responsible for monitoring schedules and budgets, field inspection, and review of construction drawings. Tand has published numerous technical papers and articles, and has taught courses at the University of Houston on case histories in civil engineering. He is a member of several professional societies, including American Society of Civil Engineers, Texas Society of Professional Engineers, National Society of Professional Engineers, American Council of Independent Laboratories, American Society for Testing and Materials, and the Chi Epsilon Honor Society.