Academy of Distinguished Civil & Environmental Engineer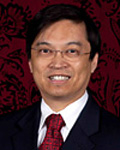 Daniel O. Wong, Ph.D, P.E.
President and CEO, Tolunay-Wong Engineers, Inc.
In 1980, Daniel Wong graduated from the University of Houston with a Bachelor of Science in Civil Engineering in 1983, a Master of Science in Civil Engineering in 1985 and a Doctor of Philosophy in 1988, with an emphasis on geotechnical engineering. In 1993, Dr. Wong along with Mr. Zeki Tolunay, P.E. started up Tolunay-Wong Engineers, Inc. (TWE). He currently serves as CEO of TWE in Houston, Texas. Dr. Wong is a licensed Professional Engineer in Texas, Oklahoma, Florida and Louisiana. He was appointed in 2006 by Governor Rick Perry to the Texas Board of Professional Engineers, where he currently serves.
Dr. Wong serves as a Board member of the University of Houston Civil Engineering Department Advisory Board. He also served on the Board of Houston Council of Engineering Companies and as President currently Treasurer of Asian American Engineers/Architects.
Dr. Wong was recognized as the Young Engineer of the Year by the Sam Houston Chapter of Texas Society of Professional Engineers in 1993, and was named as the Distinguished Young Engineering Alumnus by the University of Houston Alumni Association in 1998.  Dr. Wong was the recipient of the 1989 John B. Hawley Award by the Texas Section of the American Society of Civil Engineers.