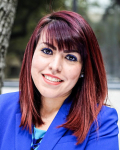 Morena G. Arredondo, P.E., ENV SP
Senior Project Manager, Atkins
Ms. Morena G. Arredondo is a native Houstonian and the first college graduate in her family. She is currently a Senior Project Manager with Atkins, member of the SNC-Lavalin Group. She started her career as a graduate engineer and advanced to Project Management while working for a private local engineering consulting firm, Klotz Associates (Klotz) from 2007 to 2016. The Klotz Board of Directors named her an Associate of the firm in recognition for her work ethic, contributions and dedication to the organization. Klotz was later acquired by a public firm, RPS, where she continued her Project Management career from 2016 to 2019. She has 13 years of collective work experience managing notable civil engineering design and construction projects for the City of Houston, Port of Houston and Harris County Flood Control District. She is a Licensed Professional Engineer in the State of Texas. She earned a Bachelor of Science in Civil Engineering (BSCE) Degree from the University of Houston and an Associate Degree in Science (AS) from the Houston Community College (HCC) System.
Arredondo has been appointed to serve on multiple Boards including the Houston Hispanic Architect & Engineers (HHAE), STEM Bridges Houston, and the University of Houston (UH) Civil & Environmental Engineering Advisory Board. She is also an active supporter of professional organizations including, American Council of Engineering Companies (ACEC), Society of Hispanic Professional Engineers (SHPE), UH Engineering Alumni Association (UHEAA), Graduate Growth Group (3G), Houston Hispanic Chamber of Commerce (HHCC), and Toastmasters International. She led scholarship committees and events geared to promote STEM education. She provides leadership in her network to encourage community engagement and promote participation. Throughout the years, she has received significant honors and awards for her leadership and dedication in the engineering industry. A few notable recognitions include being identified as an Emerging Leader by ACEC, she received the Art of STEM Engineering Leadership Award, she was named ENR Texas & Louisiana's Top Young Professional (previously called Top 20 under 40), and she received the UH Distinguished Young Engineering Alumni Award.
One of her goals is to motivate K-12 students to pursue a college education and strive for excellence. Her commitment to pay it forward has contributed to her professional and personal advancement. Arredondo is a woman of faith who aspires to be positive influence and role model in the community. She is also an advocate for women and actively seeks to represent the Houston Hispanic Community with integrity.
Recognitions/Awards:
2019 Emerging Leader, ACEC2018 The Art of STEM Engineering Leadership Award, STEM Bridges Houston
2017 ENR Texas & Louisiana's Top Young Professionals (previously called Top 20 Under 40)
2016 Distinguished Young Alumni Award - University of Houston Engineering Alumni Association
2015 Emerging Leaders in Energy Award - Houston Hispanic Chamber of Commerce and LATINA Style Magazine
2014 Young Engineer of the Year Award - Society of Hispanic Professional Engineers
2013 Emerging Leader - Houston Hispanic Chamber of Commerce Foundation