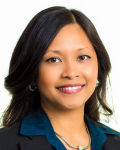 Heather Guillen, P.E., ENV SP
Civil Engineering Team Director, Walter P. Moore & Associates, Inc.
Heather Guillen, P.E., ENV SP is a graduate of the University of Alabama-Tuscaloosa with a Bachelor of Science in Civil Engineering.
Ms. Guillen is a Team Director in the civil engineering services group at Walter P. Moore & Associates, Inc. in Houston, TX. She has over 17 years of experience in civil engineering and project management. She has worked on a variety of infrastructure projects, including planning and design for educational, institutional, healthcare, commercial, and park projects. Ms. Guillen is a licensed Professional Engineer in Texas.
Ms. Guillen is active in a number of professional engineering and community organizations. Heather currently serves as Student Activities Committee Chair for the American Society of Civil Engineers (ASCE) Texas Section. She served as Vice President of Administration Board Member for the ASCE Houston Branch during 2016-2017. Heather is an alumni of the Texas Society of Professional Engineers PE Leadership Institute and alumni of Leadership Houston. Heather currently serves a board member for the City of Sugar Land Parks, Art, Recreation, Culture, and Streetscapes Board. She is also involved with the University of Houston as a, a member of the advisory board for the Department of Civil and Environmental Engineering.
Ms. Guillen received the 2016 Rising Stars Award from Civil + Structural Engineer and was selected into ENR Texas & Louisiana 2016 class of Top 20 Under 40.
Ms. Guillen and her husband Wesley have been married for over 13 years and have two sons, Jordan, 10, and Jonah, 8. They reside in Sugar Land, Texas.