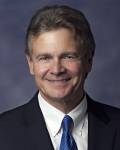 Trent J. Slovak, P.E.
Retired; Sr. Vice President, KIT Professionals, Inc.
Mr. Slovak has over 30 years of civil and environmental engineering experience in the private practice of consulting engineering and with public agencies.  His areas of expertise include the planning, design, and operation of surface water and wastewater treatment facilities and drinking water distribution system water quality management.  He is a Professional Engineer in Texas and Louisiana, an American Academy of Environmental Engineers Board Certified Environmental Engineer, and a licensed wastewater treatment plant operator in Texas.
He is a past president of the University of Houston Engineering Alumni Association and the Southeast Texas Branch of the American Public Works Association.  He and his wife Chavonne reside in Houston.