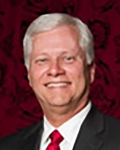 Billy M. Cooke, P.E.
Retired; Former Senior Vice President at RPS Klotz Associates, Inc.
Prior to retiring February 13, 2017, Billy worked in the consulting engineering business beginning in January 1979. His employment years were all spent in Houston—and most of them with Klotz Associates. To be professionally focused in one region for more than 30 years is somewhat rare in our industry, and he feels fortunate to have that experience. It has rewarded him with the knowledge and relationships that helped him best serve his clients in the Houston region on a daily basis.
Billy always said civil engineering is a people-serving profession. He chose this path because it gives him the opportunity to help people and to work with a variety of clients and projects. While the civil engineering profession is highly technical, our business is very personal. Relationships are everything.
His background includes civil engineering and project management in the areas of paving and drainage, flood control, water and wastewater, transportation, airports and construction management. He is particularly proud of the firm's civil engineering work for the University of Houston, the Port of Houston Authority and the Houston Airport System.
Billy received his B.S. in Civil Engineering from the University of Houston in 1978. He is a member of NSPE and TSPE. He has sat  as a member of the Greater Houston Partnership's Mobility Advisory Committee and is a member of HGAC's Technical Advisory Committee to the Transportation Policy Council. In January 2008, he was appointed to the Planning & Projects Committee of the Gulf Coast Rail District. In February of 2012, he was selected to serve as chairman of the Greater Houston Partnership's Transit Planning Committee.
Billy serves on the Civil & Environmental Engineering Industrial Advisory Board at UH, and is a member of the Engineering Alumni Association.  He sat on the EAA Board from 1999 to 2005, serving as president during the 2002-2003 year.
Billy and his wife, Marsha, have two sons, Brenden and Aaron, and one daughter, Meredith.